ALAGKIOZIDIS DIMOSTHENIS & CO LLP
FRUIT AND VEGETABLES TRADE
Our company was created and established by Dimosthenis and Christos Alagiozidis in 2010 at private facilities which are located in Agios Georgios in Veroia, in the heart of fruit and vegetable production of Central Macedonia. The facilities include sorting and packaging areas as well as freezers in which fruits and vegetables can be kept fresh.
Our company deals with the trade of fruits and vegetables which are produced by the owners themselves along with those of other producers who fulfil the high quality specifications our company mandates, by strictly supervising each of the crops and thoroughly taking care of each product.
Our company is fully certified and it follows a system of managing quality which is based on the international standards ISO 9001, ISO 22000.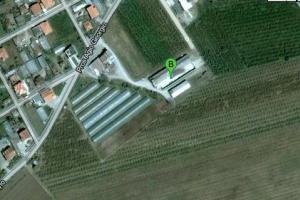 Our main focus is to ensure safety for the consumers while fuelling and servicing markets all over Greece as well as abroad with fresh and healthy products of high quality, thus providing fresh products straight to the consumers' tables. Consequently, just a few minutes after collecting the products, the fruits and vegetables are sorted, packaged, refrigerated and dispatched, in order for them to maintain all their characteristics and a rich, fresh taste.
By making the most of our experience and expertise in cultivating fruits along with a legacy dating back to 1970, since we were the first to grow nectarines and certain peach varieties in the broader area and, of course, under a successful long-term coordination with agronomists and agricultural scientists who we permanently cooperate with, we have managed to maintain the quality of our products at a top level, as they follow the highest standards and requirements while undergoing stricter and thorough checks on a regular basis.